PHOENIX -- First there was the vote for starters. Fans cast a record 32.5 million overall ballots for starters, eclipsing the previous record of 23.5 million. As for the specific 2011 All-Star Game MLB.com Ballot Sponsored by Sprint, fans smashed records, casting 27.4 million ballots online counting for 357.5 million votes.
Then there was the 2011 All-Star Game Final Vote Sponsored by Sprint. Fans selected White Sox first baseman Paul Konerko and Phillies center fielder Shane Victorino. Those two candidates alone racked up 17.6 million combined votes, as people everywhere spent the better part of a week deciding on each league's final roster spot.
Now it is time for the grand finale in an ongoing All-Star balloting series. You love to decide things for yourself, and now you have your next opportunity, because Tuesday night, it's time for the 82nd All-Star Game at Chase Field, and you can start voting again.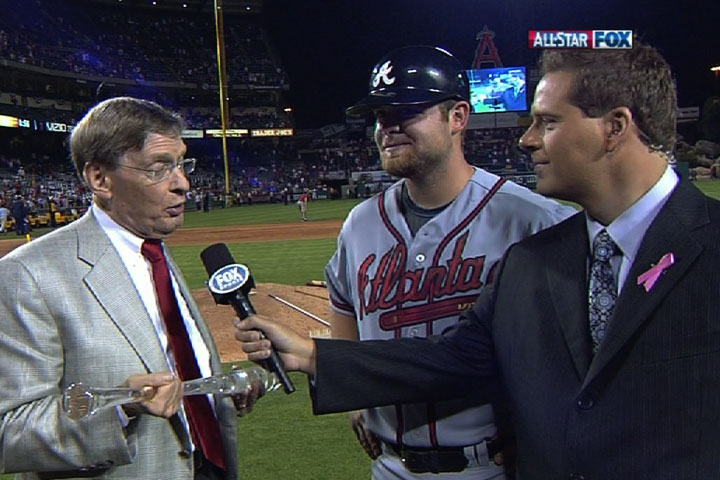 This will be the ninth annual opportunity to help decide the Ted Williams Most Valuable Player Award presented by Chevy, exclusively on MLB.com via the 2011 All-Star Game MVP Vote Sponsored by Sprint. Last year's choice was Braves catcher Brian McCann, whose big double off Matt Thornton in Anaheim helped the National League finally win for the first time since 1996.
McCann's bat went straight to Cooperstown. The MVP hardware went to him, and you were partly responsible if you voted. Who will succeed him Tuesday? That is partly up to you.
You can begin casting votes for the award starting with the sixth inning, by which time some strong candidates will have emerged. The voting will continue until the MVP is announced immediately following the end of the game.
The online fan vote again will count for 20 percent, with the other 80 percent coming on site from the Baseball Writers' Association of America and the announcers from the All-Star Game's three broadcast rights holders: FOX Sports, ESPN Radio and MLB International.
Immediately following the conclusion of the All-Star Game, the Ted Williams Most Valuable Player will receive the Arch Ward Trophy, which was first presented in 1962 as a tribute to the man who founded the All-Star Game in 1933. That first presentation went to Leon Wagner of the Los Angeles Angels and to Maury Wills of the Los Angeles Dodgers, because two All-Star Games per year were played in those days.
It is the final and important step in a remarkable run of fan participation in this All-Star Game. Now, who will be your choice for the MVP? Follow the game closely, because you have another important role in online balloting.
It is the 49th anniversary of the All-Star Game MVP, dating back to that summer of '62. Other legends who have won this award have included Willie Mays, Brooks Robinson, Carl Yastrzemski, Frank Robinson, Gary Carter, Roger Clemens, Ken Griffey Jr. and Sr., Bo Jackson and Cal Ripken Jr. Of course, there was no fan participation in any of their selections.
These are the players who have won the award since the fan vote was factored in:
2003: Garret Anderson of the Angels
2004: Alfonso Soriano of the Rangers
2005: Miguel Tejada of the Orioles
2006: Michael Young of the Rangers.
2007: Ichiro Suzuki of the Mariners.
2008: J.D. Drew of the Red Sox.
2009: Carl Crawford of the Rays.
2010: McCann of the Braves.
"It's something you dream about as a little kid," McCann said, "a moment I'll never forget."
"It feels great," Crawford said after making that leaping grab to rob Brad Hawpe and secure the 2009 MVP trophy. "They totally got me off guard today. I didn't think I was going to win it. This being my third time coming here, it definitely feels good to win the MVP Award. You know, I'm just so happy, I don't really know what to say. I just hope I can come back many times and try to win it again."
"I don't think it's hard to believe," Drew said after receiving his trophy. "I've always had confidence in my ability. It just took me a little while to put it together last year, get some experience in the American League."
"It's an [All-Star Game] that I'll never forget," Ichiro said after winning in 2007. "The past six years, I never had an All-Star Game [MVP] when I really thought I gave it my all. So, I'm really happy. It was a fun All-Star Game."
Whichever player you choose, just choose carefully. It's a grand tradition, and these days you are a part of it. History awaits your verdict. Given the way online voting has turned into an absolute happening this summer, it will be interesting to see what kind of participation there is during this Midsummer Classic.
The 82nd Major League Baseball All-Star Game will be televised nationally by FOX Sports, in Canada by Rogers Sportsnet and Sportsnet HD and Le Reseau des Sports, and around the world by Major League Baseball International, with pregame ceremonies beginning at 8 p.m. ET. ESPN Radio will provide exclusive national radio coverage. MLB Network, MLB.com and Sirius XM also will provide comprehensive All-Star Game coverage.